Structural Wood Systems & Building Trusses Since 1967
UsiHome prefabricated wood structures and trusses have been on the market since 1967. Today we are recognized for our professionalism, our manufacturing speed and precision and our delivery services in the wood construction industry.
Across Quebec and in the northeastern United States, UsiHome's machined roof trusses, floor systems and prefabricated wooden walls allow contractors and DIY builders to complete projects of any size at a lower cost, without compromising on quality.
Choose UsiHome structural wood for your project

Large-scale
production capacity

Fast and efficient
turnover

Rigorous design
and execution
Prefab structural wood systems built in-house for unmatched efficiency
UsiHome's team of 150 dedicated experts manufactures industry-leading wood structural components in our own large-scale production facilities. Our Quebec factory consistently reaches high-level commercial and residential production capacities, building high-quality structural wood products that exceed industry standards and our diverse clients' stringent requirements.
Our prefabricated wood systems and building trusses are available year-round and can be delivered quickly to meet strict deadlines.
Our expertise in manufacturing roof trusses guarantees strong, durable wood structures for your construction projects.
Our first-class floor truss systems are a reliable and efficient solution to support the structure of your wooden buildings.
No matter the scope of your construction project, our wooden structural elements are a winning choice
The wide range of services we offer has helped UsiHome become a highly trusted company in the structural wood industry.
UsiHome's massive portfolio includes many different types of projects: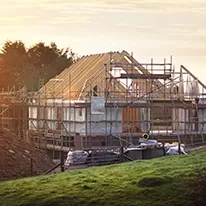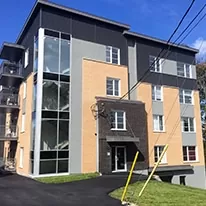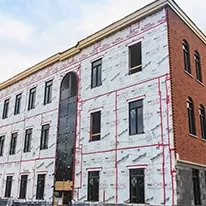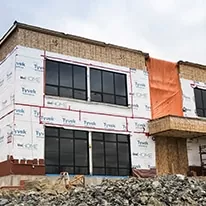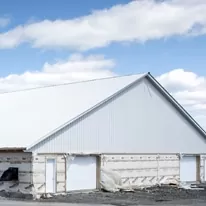 UsiHome prefabricated structures:
construction industry excellence since 1967
Working under the leadership of Groupe Anctil and Groupe Coté, the UsiHome team benefits from unmatched expertise developed over generations. In the business community at large, we are recognized as a model for family businesses.
Our company employs over 150 committed team members whose dedication has enabled us to build a reputation for success, longevity, and efficiency.
Join UsiHome in building wooden structures
As our business continues to grow, we are always looking for skilled workers to fill various positions within our team. Take this chance to become part of UsiHome's big family.
CONTACT OUR REPRESENTATIVES TODAY
Do you want more information about our products or services? Do you need a fast and free quote? Get in touch with one of our representatives now to learn more about UsiHome structural wood solutions.
Our latest wood construction projects