Prefab Roof Trusses Manufactured in Quebec
Prefabricated wood roof trusses are now a staple in many construction projects. They have radically transformed the way roofs are built, whether on residential, multi-residential, commercial, institutional or agricultural buildings.
At UsiHome, we are proud to offer you a wide range of superior quality custom-designed trusses prefabricated in our Quebec factory. Contact our sales team to learn more about the price of our roof trusses and structural framing products.
Roof trusses tailored to your construction projects
All wooden UsiHome structural wood products are made from premium quality materials. Thanks to our state-of-the-art equipment and rigorous quality control, we guarantee the design of precision machined structures that meet the requirements of the National Building Code (TPI = USA TPIC = CANADA).
Every roof truss is delivered with a detailed assembly plan where and when you want it, making it easy to coordinate your on-site workforce. Not to mention that easy installation saves on labor costs.
Why choose our prefabricated roof trusses?
Speedy construction
Prefabricated roof trusses are made in a factory that guarantees quick and efficient fabrication. Then, they are delivered to the job site where they can be assembled quickly, reducing overall construction time.
Reduced costs
Factory-built roof trusses cost less than trusses built on-site with traditional construction methods. Quick and easy installation saves even more on labour.
Made-to-measure
Take advantage of a made-to measure construction adapted precisely to the needs of your project.
Superior quality
Our prefabricated roof trusses offer quality and strength – and therefore peace of mind. All our trusses meet the requirements of the National Building Code of Canada.
Roof truss models available from UsiHome
In-house manufacturing allows us to quickly build intricately engineered wood structures that are individually tailored to your construction project. With the help of digital design tools, we can manufacture a wide variety of roof trusses in the exact dimensions needed for your project.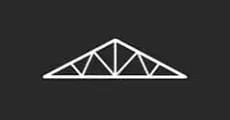 Standard roof trusses
Standard roof trusses are designed to be highly reliable and versatile, with spans of up to approximately 10 m and a simple triangular design that makes them easy to integrate.
Gambrel roof trusses
Gambrel roof trusses are used to construct buildings with a barn-like shape.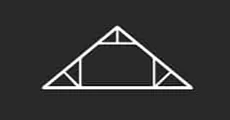 Attic roof trusses
This model can be used to create a living space in the attic. The lower chord is used as a floor joist and the supporting braces form the walls of the room.
Scissors roof trusses
Scissors roof trusses are often used to create a vaulted ceiling effect.
Cambered roof trusses
This design is best used to create a height effect. However, unlike the scissors roof truss, which also provides a height gain at ceiling level, it features a horizontal beam.
Flat roof trusses
Used for flat roofs and sometimes even floors, these can be manufactured with a low slope to compensate for deflection and provide good drainage.
Piggyback roof trusses
When roof trusses are too high to be manufactured and/or delivered, they can be fabricated in two parts. These trusses are assembled at the construction site and offer excellent performance.
Monopitch roof trusses
A monopitch roof truss forms a right-angled triangle and is often used for sheds, cabins, garages or the extension of an existing roof.
Trust UsiHome for your roof trusses
If you are looking for a prefabricated roof truss for your construction project, we'd love to discuss your project and get to work! We have a wide selection of roof trusses, just tell us what you need.
In addition to the roof truss models listed above, UsiHome also offers a manufacturing service for custom wood framing products such as prefabricated wall panels and floor joists. We can also manufacture these structural elements for you to limit the number of people involved in your project.
If you have any questions about the manufacturing, availability or price of our roof trusses, please contact one of our representatives!